Indian MILF has an Orgy with Pilots in the Sky
This story is based on an episode from Velamma comics which you can read here.
Velamma got an urgent phone call. Her sister had been in some urgent accident, and no one in the family seemed to want to support her through it. Velamma was outraged, and she knew she just had to make it out to see her.
Velamma: Ramesh, I need to get to her.
Ramesh: I have an important project, and I can't just drop it and take you.
Velamma: Fine! Then I'll board a flight and go by myself.
Ramesh: But…you're afraid of flying.
Velamma: I don't see any other way! So you have to drive me to the airport at least!
She packed in a hurry, and Ramesh drove her to the airport. She kept telling herself that her fear was irrational as she bought her ticket and prepared to board. Velamma walked up to the security station and put her luggage in it.
However, as she passed through, the alarm blared, and a female security guard walked up to her.
Guard: Ma'am, I will have to ask you to step aside with me. You set off the alarm. I have to take you to a private room and search for you.
Once they got to the room, the Guard asked Velamma to strip down to her underwear. As she stood there, exposed, the Guard walked up and undid the clasp of her bra.
She scanned Velamma and then felt up her juicy breasts. Velamma knew what was happening, but she enjoyed the Guard's touch. She was a hot dyke, after all.
Guard: You've got perky boobs. I wonder what you think of mine.
Velamma watched as the woman undressed and pressed her warm, hard nipples against Velamma's. She loved the sensation, so she pushed hers back into the Guard's hot nipples. The Guard asked Velamma to take off her panties.
Velamma: If you insist, then I will. What do you hope to find?
Guard: I need you to spread your labia so I can check inside.
The Guard stuck her metal detector inside Velamma's pussy. She moaned as she threw her head back. She enjoyed the feel of the cold instrument going in and out of her warm pussy.
Guard: Wow! You're clean, but I want you to do me now. I get so horny waiting around this airport, lonely and stern.
Velamma: What about my flight?
The Guard opened her legs, and they were dripping wet as she purred with heat.
Guard (moaning): Do me now! I'm so wet just watching you, so you don't need lubricant. If you do me…I'll make sure you're the first to board the flight!
Velamma jumped at hearing that and grabbed the detector. She thrust it in and out of the Guard's wet pussy. The Guard moaned at the top of her lungs like a full-blown prostitute. She let Velamma fuck her and threw her head back.
But Velamma didn't want this to take any longer. She bit the Guard's thigh softly as she pulled the rod out. The Guard yelped, but Velamma put four fingers deep inside the Guard's slimy pussy and fingered the fuck out of her.
Guard: Yea! Just like that! I'll get you there on time! I'm cumming! I'm cumming!
Cum squirted out onto Velamma's flushed face, and she let the Guard lick her fingers.
They both got dressed, and the Guard got Velamma onto the plane before even the first-class passengers had boarded. The air hostess guided her to her seat. Velamma decided it was probably best to put on some headphones and get some rest to avoid her fear of flight.
Velamma was fast asleep when she felt turbulence and woke up in a panic. An air hostess came over and tried to calm her down, but it was impossible. Velamma started to panic.
Air hostess: Ma'am, just come with me.
Velamma: Turn the plane around! This is too much for me! I'm losing my shit!
Air hostess: Don't worry. I'll introduce you to the pilots, and they'll make you feel all better!
She guided Velamma to the cockpit and introduced her to the pilots. Velamma stood nervously as the pilots eyed her luscious body from top to bottom. They signaled the Air hostess to leave and began talking to Velamma.
Co-captain: Hello, Velamma. It's nice to meet you. There are no chairs here, so maybe you should sit on my lap.
Velamma did as he said because she was too scared to stand inside the cockpit by herself. She could feel the Co-captain's erection on her thigh as she sat and pretended not to notice. However, thinking about his cock was definitely distracting her from her fear of flying.
Co-captain: You know, Velamma, I used to have a fear of flying as well.
Velamma: Really? How did you overcome it?
Co-captain: What helped me get over it might work for you too.
Velamma: What was it?
Co-captain: Sex in an airplane.
He reached around and felt Velamma's boobs, and she tried to resist him. Turbulence hit again, and Velamma screamed in fear. She pulled her top down and exposed her boobs, and the Co-captain played with them fondly.
Another wave of turbulence hit, and she jumped into his lap and kissed him. He buried his face in her juicy tits as the Captain watched from his seat.
Velamma: Don't let me die, and I'll do anything!
She pulled out his cock and sucked on it fondly as he pulled her clothes off. She moaned as she sucked on his musty cock fondly.
Co-captain: Don't worry. Once you have sex on an airplane, you'll never be afraid to fly again.
He reached around and fingered her. Velamma moaned pleasurably as she sucked on his hard cock. The Captain put the plane on autopilot and reached over to join the party. He began munching on Velamma's juicy ass while his partner squeezed her dangling tits fondly.
Velamma: Oh no! Who's piloting the plane?
Captain: Don't worry, my dear, it's on autopilot. How about we take this party to the back of the cockpit. There's more room.
Velamma (wiping her face): I can't believe two handsome pilots want to cure me of my fear of flight (she giggled).
They took her to the back and laid her on the ground. They took turns pounding into her while Velamma sucked down the other's cock. She moaned as her body was pushed and prodded by their manly, throbbing cocks.
Captain: Don't you feel safer now?
Velamma lifted her leg open wider for the Captain to fuck her as she sucked the Co-captain's cock.
Velamma: I don't know if I feel safer, but I definitely feel two amazing cocks inside me!
Velamma moaned as her tits rocked against the floor of the aircraft. Her legs were split open as the Co-captain ate her pussy. Her musty pussy dripped as he munched on it. Her mouth swallowed the Captain's sweaty cock and balls as she let out one sultry moan after another.
Captain: Next time you fly, you'll think of us. You'll think of my salty cock in your soft, wet mouth.
Co-captain: You'll think of my cock thrusting inside your wet slit.
Captain: Next time you step into an airport, all you'll think about is my cock!
Velamma moaned louder as the two Captains fucked the shit out of her. She felt their cocks split her open as their sweaty bodies pushed up against hers. The air hostess walked in to check on her and gasped in surprise.
The Captain walked over to her and grabbed her tits.
Air hostess (blushing): Is there anything I can get y-
Captain (walking over to her): -You can get your sweet ass out of that uniform and help us please Velamma.
He grabbed the Air hostess' tits, and she moaned as she pulled off her tight uniform and got on her knees. The Captain fucked her as she leaned over and sucked on Velamma's juicy tits. The Co-captain pounded Velamma as she moaned louder while the Captain pounded hard into the sweaty air hostess.
Velamma: Fuck! This is going to make me cum if we keep going like this.
Captain: If anyone is going to make you cum today…it's me!
He pulled his cock out of the groaning air hostess and put it inside Velamma. She gasped as she felt his throbbing cock enter inside her. He got on the ground, and Velamma sat on his thighs and rode him hard. The air hostess leaned over and kissed and twirled her tongue around Velamma's.
The two pushed and pulled their lips passionately as they got pounded deep by the horny captains. Sweat dripped down their bodies as they caressed and kissed each other. The men slid in and out of their pussies as pre-cum oozed down their bodies onto the men's thighs.
Captain: I know I'm pulling rank in making her cum, but I need my co-captain here as well.
Velamma felt a second cock enter pussy and gasped. Her surprise turned into lust as she opened her legs wider to accommodate the extra cock inside her. The cocks slid against one another as they pounded into her pussy together.
Two cocks in her one whole made her moan even louder.  The air hostess stood and rubbed herself as she watched them fuck her.
Air hostess: You're such a lucky passenger, Velamma!
Velamma (moaning heavily): Oh fuck! Tell me about it! I'm cumming!
The Co-captain pulled out, groaning as his cock throbbed.
Co-captain: Fuck! That's too much for me!
He exploded onto Velamma's stomach as she moaned and squeezed her sweet, sweaty breasts. Velamma's body throbbed as she felt the waves of a pleasurable orgasm wash over her body.
Velamma: Aah! I love flying!
The Captain felt her cum. It oozed down his cock, allowing him to slip and slide inside her pussy faster. He groaned as his cock exploded inside Velamma's warm pussy. His cummed dripped out of her pussy and onto his thighs.
They all played with each other's bodies for a few minutes enjoying the lustful aftertaste of a good, flying fuck.
The pilots went back to their stations, and the women returned to the cabin. The plane landed soon, and Velamma left the flight feeling as light as a satisfied feather.
Air hostess: Hope to see you soon!
Velamma: Well, I'll have to fly back home soon, so yes, hopefully.
They exchanged lustful glances as they looked up and down each other's bodies. Velamma hoped to eat her pussy on the return trip. The Air hostess winked as Velamma walked away. Velamma was no longer afraid of flight. She craved it now more than anything.
To read Velamma episode #123, 'Fear of Flying,' click here.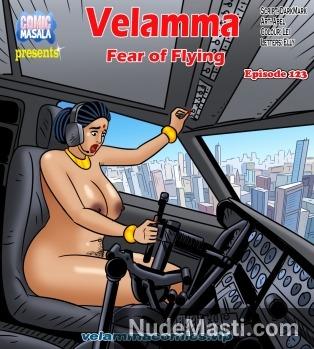 What did you think of this story??